Ferdinand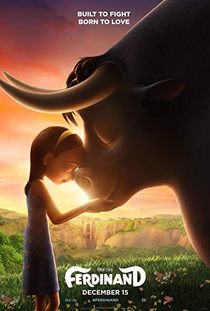 FERDINAND (U)
D: Carlos Saldanha
20th Century Fox/Blue Sky (John Davis, Lisa Marie Stetier, Lori Forte & Bruce Anderson)
USA 🇺🇸 2017
108 mins
Animated
W: Robert L. Baird, Tim Federle & Brad Copeland [based on "The Story Of Ferdinand" by Munro Leaf & Robert Lawson]
Mus: John Powell 
voices of: John Cena (Ferdinand), Kate McKinnon (Lupe), Bobby Cannavale (Valiente), Gina Rodriguez (Una), Daveed Diggs (Dos)
The Story Of Ferdinand was originally made into an 8-minute short film by Walt Disney and his studio way back in 1938, winning an Oscar for Best Animated Short. 
The story centres on a bull who is more interested in the matador's flowers than he is in fighting. 
This feature length update adds 100 minutes to the plot, mostly about the evils of bullfighting and, to a lesser extent, eating meat... you know, for kids.
The animation may be an improvement on the 1930's counterpart and family-friendly it may be, but that doesn't make it a great movie.
Children may find enjoyment in it, but a good animated film should really aim higher. After all, it's the parents who can afford the price of the tickets.
Personally, I find the 8-minute version much more fun.
6/10