Fences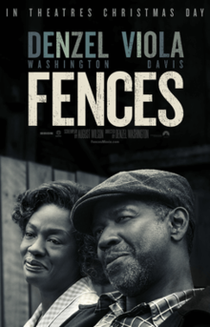 FENCES(15)
D: Denzel Washington
Paramount/Bron Creative/Macro Media (Todd Black, Scott Rudin & Denzel Washington)
USA 🇺🇸 2016
139 mins
Drama
W: August Wilson [based on his stage play]
DP: Charlotte Bruus Christensen
Ed: Hughes Winborne
Mus: Marcelo Zarvos
Denzel Washington (Troy Maxson), Viola Davis (Rose Maxson), Jovan Adepo (Cory Maxson), Stephen Henderson (Jim Bono), Russell Hornsby (Lyons Maxson), Mykelti Williamson (Gabriel Maxson)
Fences is virtually a filmed version of a stage play, but it does showcase an ensemble of excellent performances, especially from the leading pair, Denzel Washington and Viola Davis, the latter of whom won an Oscar for Best Supporting Actress, despite being the leading actress in the picture.
The transition from stage to screen doesn't appear to affect the material, which focuses on the relationships of Troy Masson, a rubbish collector and his family in 1950's Pittsburgh, the majority of the scenes taking place in his back yard where he plans to put up a fence with his son.
The dialogue mostly consists of Troy battling with racial oppressions of the time, particularly his failures to make it as a ball player due to the colour of his skin. A sore point which he tries to pass down to his son, an aspiring football player who is bound by his father's strict rules.
Though the material will doubtlessly work better on stage, Denzel Washington and Viola Davis make this eminently watchable with their excellent character portrayals, especially in the quieter moments when Troy isn't shouting at everyone.
8/10