Fear & Loathing in Las Vegas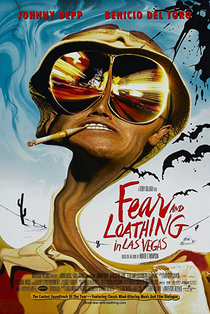 FEAR & LOATHING IN LAS VEGAS (18)
Universal/Rhino (Laila Nabulsi & Patrick Cassavetti)
W: Terry Gilliam, Tony Grisoni, Tod Davies & Alex Cox [based on the book by Hunter S. Thompson]
Johnny Depp (Raoul Duke), Benicio del Toro (Dr. Gonzo), Tobey Maguire (The Hitchhiker), Gary Busey (The Highway Patrolman), Ellen Barkin (The Waitress), Christina Ricci (Lucy)
Terry Gilliam's surreal trip follows a journalist and his attorney as they drive into Las Vegas on a wild drug binge.
Hunter S. Thompson's original book was deemed unfilmable due to the subject matter and the adaptation is as messy as it is is bizarre. Gilliam does a great job making each visual look like it's captured through the eyes of a drug user.
There's not much story, character development or memorable dialogue, but it still manages to be a memorable film, and though there doesn't seem to be much point to it, this is, ironically, the point.
6/10