Fast Times at Ridgemont High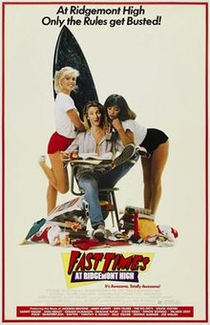 FAST TIMES AT RIDGEMONT HIGH (18)
Universal (Art Linson & Irving Azoff)
W: Cameron Crowe [based on his book]
Jennifer Jason Leigh (Stacy Hamilton), Brian Backus (Mark Ratner), Phoebe Cates (Linda Barrett), Sean Penn (Jeff Spicoli), Judge Reinhold (Brad Hamilton)
One of the best teen comedies of the 1980's, based on screenwriter Cameron Crowe's observations when he went undercover as a student at a real high school.
The story follows several students on their quests for sex & fun, lacking the puerile toilet humour of similar films around the same time (Porky's, Revenge of the Nerds) in favour for more believable, realistic gags and characters with a little more flesh (Phoebe Cates, for sure).
All the cast members do a fine job, but Sean Penn steals the movie as a relentlessly stoned surfer dude. Gnarly!
Keep an eye out for a debut performance by Nicolas Cage (billed as Nicolas Coppola)
8/10