Fantastic Four (2005-2007 / 2015)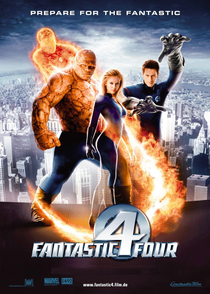 FANTASTIC FOUR (12)
20th Century Fox/Marvel/Constantin (Bernd Eichinger, Avi Arad & Ralph Winter)
Adventure/Science Fiction/Fantasy
W: Mark Frost & Michael France [based on characters created by Jack Kirby & Stan Lee]
Ioan Gruffudd (Reed Richards / Mr. Fantastic), Jessica Alba (Sue Storm / Invisible Woman), Chris Evans (Johnny Storm), Michael Chiklis (Ben Grimm / The Thing), Julian McMahon (Victor Von Doom / Doctor Doom), Kerry Washington (Alicia Masters)
Far from fantastic comic book adventure which doesn't live up to its potential.
The origin side of things is fine, with a team of astronauts struck by a radiation cloud which affects their DNA and gives them various superhuman powers. Unfortunately the focus then goes on Jessica Alba's character moaning that she doesn't get enough love from her ex-boyfriend, Mr. Fantastic (Gruffudd) and with her relationship with Victor Von Doom hitting the skids, she's now without a boyfriend. Diddums. The modest budget doesn't make the most convincing visual effects or makeup either, especially The Thing's obvious rubber suit. Product placement couldn't be more in your face either. Flame-grilled Whopper anyone?
The biggest problem is the wooden characters and performances. Keep them all away from the Human Torch or there'll be a catastrophe!
5/10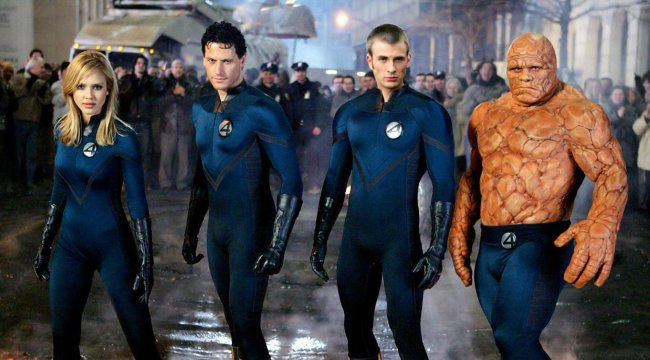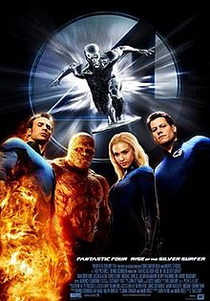 FANTASTIC FOUR: RISE OF THE SILVER SURFER (12)
20th Century Fox/Marvel/Constantin (Bernd Eichinger, Avi Arad & Ralph Winter)
USA/Germany/UK 🇺🇸 🇩🇪 🇬🇧 2007
Adventure/Science Fiction/Fantasy
W: Mark Frost & Don Payne [based on characters created by Jack Kirby & Stan Lee]
Ioan Gruffudd (Reed Richards / Mr. Fantastic), Jessica Alba (Sue Storm / The Invisible Woman), Chris Evans (Johnny Storm / The Human Torch), Michael Chiklis (Ben Grimm / The Thing), Julian McMahon (Victor Von Doom / Doctor Doom), Kerry Washington (Alicia Masters), Andre Braugher (Gen. Hager), Doug Jones (The Silver Surfer), Laurence Fishburne (voice of The Silver Surfer)
Like the first film all the potential is lost through a rushed production, making for a sloppy narrative with unpolished production values and visual effects.
The first act is once again taken up with the tedious storyline of Jessica Alba's character moping around because she's not getting enough love, even though impending doom is on its way in the shape of alien being, the silver surfer, followed by the mighty destroyer of worlds, Galactus.
Once the action does get going, it's not entirely awful, but the filmmakers definitely missed a trick. In the Marvel Universe, Galactus is the most feared of all the comic book villains, in this film it's represented by a cloud. The superhero movie sub-genre really deserved better than this.
5/10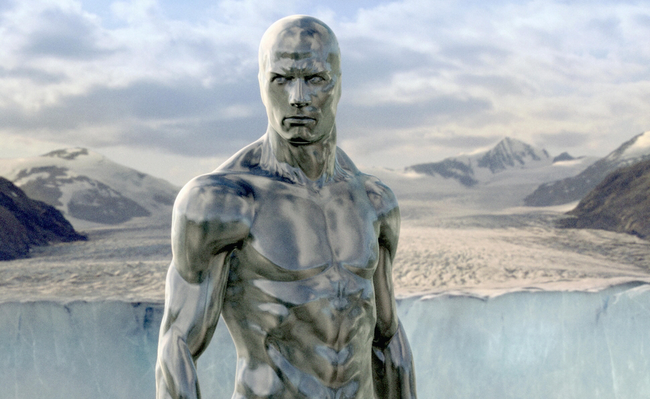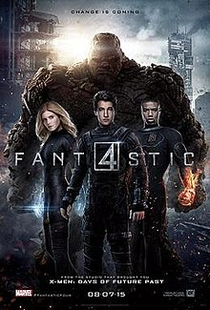 FANTASTIC FOUR (FANT4STIC) (12)
20th Century Fox/Marvel (Simon Kinberg, Matthew Vaughn, Hutch Parker, Robert Kulzer & Gregory Goodman)
W: Jeremy Slater, Simon Kinberg & Josh Trank [based on the comic book series by Stan Lee & Jack Kirby]
Ed: Elliot Greenberg & Stephen E. Rivkin
Mus: Marco Beltrami & Philip Glass
Miles Teller (Reed Richards / Mr. Fantastic), Kate Mara (Sue Storm / The Invisible Woman), Michael B. Jordan (Johnny Storm / The Human Torch), Jamie Bell (Ben Grimm / The Thing), Toby Kebbell (Victor Von Doom / Doctor Doom)
The previous two Fantastic Four movies, released in 2005 and 2007, were far from fantastic, but at least they were more entertaining than this. Even the 1994 made-for-TV version wasn't as boring.
Though this origin tale has some good ideas, the execution of them is nothing short of terrible, presented in a dull way where nothing much happens for the most part and not much else happens after. It's abundantly clear that this was a project where director Josh Trank and the studio did a lot of wrestling for overall control (backed up the director's tweet after the film's premiere that the final result would have been very different had he called more of the shots).
The junior fantastic four, all high school age, are united when child prodigy Reed Richards creates a gateway to another dimension for his school science fair.
On a grander scale, control of the stargate (I'm just gonna call it that) is wrestled over between Richards and erratic, obnoxious genius Victor Von Doom, in what must surely be a metaphor for the production of this film.
After a midnight trip to the fourth dimension, the four gain their powers to make them become Mr. Fantastic, The Human Torch, The Invisible Girl and The Thing, while Von Doom, fused to his protective suit, hatches a plan to kill everyone (but only in the final 10 minutes of the movie).
This film is so bad, that Marvel have even disowned it from their cinematic universe list. There's so much wrong with it that you can't blame them. It may not be the worst superhero film ever made, but it's easily the most disappointing.
2/10