Fantastic Beasts (film series)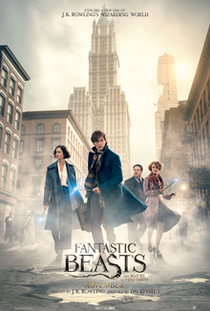 FANTASTIC BEASTS & WHERE TO FIND THEM (12)
D: David Yates
Warner Bros/Heyday (David Heyman, J.K. Rowling, Steve Kloves & Lionel Wigram)
UK/USA 🇬🇧 🇺🇸 2016
133 mins
Fantasy
W: J.K. Rowling [based on her novel]
DP: Philippe Rousselot
Ed: Mark Day
Mus: James Newton Howard
PD: Stuart Craig
Cos: Colleen Atwood
Eddie Redmayne (Newt Scamander), Katherine Waterston (Porpentina Goldstein), Dan Fogler (Jacob Kowalski), Alison Sudol (Queenie Goldstein), Colin Farrell (Percival Graves), Ezra Miller (Credence Barebone), Carmen Ejogo (Seraphina Picquery), Samantha Morton (Mary Lou)
J.K. Rowling's expanded universe of Harry Potter's wizarding world takes us to 1920's New York, where magical zoologist Newt Scamander and his Mary Poppins suitcase full of fantastic beasts is a new arrival to American shores from Britain. 
When one of his creatures escapes from the suitcase at a bank, Newt and a "no-maj" (lacking magic) baker accidentally switch cases. Meanwhile, something is causing havoc around the city, and the unlikely duo, with the help of two magical sisters, investigate the goings-on, while the ominous Percival Graves (Colin Farrell) appears to be doing likewise.
Though the story here is not a direct prequel to Harry Potter's adventures, there are many references to it, and fans of J.K. Rowling's schoolboy wizard certainly won't feel short changed by this.
The production design and costumes capture the period wonderfully, as well as being creative in their own respect. One small niggle is that some of the CGI is nowhere near the standard you'd expect for a top dollar blockbuster, especially for the supposed fantastic beasts, although this can't be said for all of the effects (some of which are well executed). The role of Newt Scamander seems to fit Eddie Redmayne like a glove.
6/10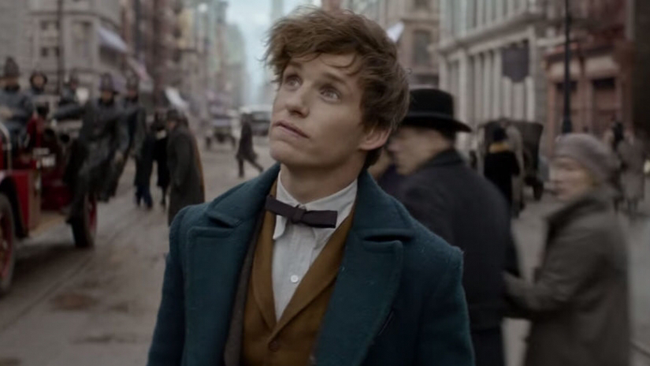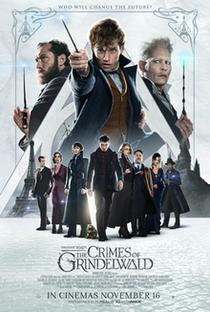 FANTASTIC BEASTS: THE CRIMES OF GRINDELWALD (12)
D: David Yates
Warner Bros/Heyday (David Heyman, J.K. Rowling, Steve Kloves & Lionel Wigram)
UK/USA 🇬🇧 🇺🇸 2018
134 mins
Fantasy 
W: J.K. Rowling
DP: Philippe Rousselot
Ed: Mark Day
Mus: James Newton Howard
PD: Stuart Craig
Cos: Colleen Atwood
Eddie Redmayne (Newt Scamander), Katherine Waterston (Tina Goldstein), Dan Fogler (Jacob Kowalski), Alison Sudol (Queenie Goldstein), Jude Law (Albus Dumbledore), Johnny Depp (Gellert Grindelwald)
When the first film (Fantastic Beasts & Where To Find Them) proved to be a hit, it was inevitable that sequels would follow, especially since the Harry Potter movies proved so bankable for Warner Bros.
Just like the first movie J.K. Rowling penned the screenplay herself, following on from them events to set up the villainous character of Grindelwald, an evil wizard who practices the dark arts of magic. Albus Dumbledore enlists the help of Newt Scamander to find the wizard and defeat him and he attempts to enlist the help of his pals from the first adventure.
The film starts with a bang, as Grindelwald escapes incarceration, but then the next 60-90 minutes is dragged down with boring, plodding exposition, which mostly consists of characters pointing at things and explaining the plot to us muggles who don't have a Scooby what's going on. It also invests a lot of time in setting up characters for more sequels, because J.K Rowling wants another throne to sit on as she judges the rest of us peasants via her Twitter account.
In all honesty, I'm not a fan of Harry Potter and never have been. Some of the films were enjoyable, but some were dull as dishwater, 2-hour plus trailers for the next in the series. That's pretty much what this is, except even Harry Potter fans are disappointed and left theatres wondering what the hell they'd just watched, especially since it seems to retcon things which are already canon.
Perhaps J.K. Rowling should stick to writing books, rather than screenplays (or condescending, disingenuous, virtue-signalling tweets).
4/10