Fantasia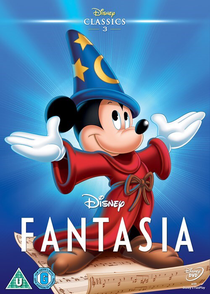 FANTASIA (U)
W: Joe Grant & Dick Huemer
Walt Disney's homage to classical music, with works of Beethoven, Tchaikovsky, Bach and other composers given a cartoon interpretation.
The critics adored this, which will leave mainstream Disney fans wondering what all the fuss is about. It's understandable why it's a classic, simply for the experiment of mixing animation with music, but unfortunately that isn't enough. It's length is also unjustifiable.
Possibly worth watching for "The Sorceror's Apprentice" sequence with Mickey Mouse but it really isn't the cinema classic that the stuffier film critics hail it to be.
6/10