Fanny & Alexander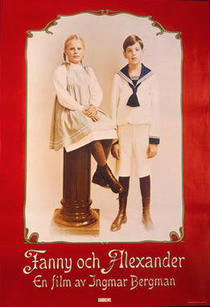 FANNY & ALEXANDER (FANNY OCH ALEXANDER) (18)
D: Ingmar Bergman
Gaumont (Jörn Donner)
Sweden/France/West Germany 🇸🇪 🇫🇷 🇩🇪 1982
188 mins (TV mini-series: 312 mins)
Drama
W: Ingmar Bergman
DP: Sven Nykvist
Ed: Sylvia Ingemarsson
Mus: Daniel Bell
PD: Anna Asp
Cos: Marik Vos
Bertil Guve (Alexander Ekdahl), Pernilla Allwin (Fanny Ekdahl), Kristina Adolphson (Siri), Börje Ahlstedt (Carl Ekdahl), Kristian Almgren (Putte), Allen Edwall (Oscar Ekdahl)
Fanny & Alexander is a film I ought to appreciate a lot more than I actually do, but the truth is, I found this quite a difficult watch, even though I only viewed the shorter version.
Considered by many to be Ingmar Bergman's masterpiece, it follows three generations of the Ekdahl's, a theatrical family in early 20th Century Sweden, mostly through the eyes of the children, Fanny & Alexander.
Firstly, I have to admit that it's a beautifully constructed film, with some sumptuous cinematography, production design, costumes and makeup, and whilst I can respect Bergman's career as a writer-director, I do find that most of his films are incredibly depressing.
Depressing isn't a term I'd use for Fanny & Alexander, but it was a long, hard slog of a movie to get through and I really wish that I enjoyed it more.
Admittedly, I probably picked a wrong time (in the evening) to view the movie, when I was already quite tired, and perhaps I should choose a better time to watch it, or even tackle it in its TV format, in which it was broken down into episodes for a 5-hour cut.
6/10