The Exterminator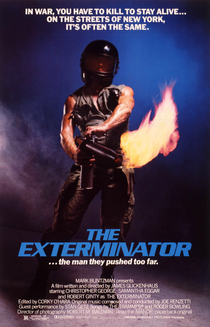 THE EXTERMINATOR (18)
D: James Glickenhaus
Avco Embassy/Amsell/Interstar (Mark Buntzman)
USA 🇺🇸 1980
102 mins 
Action/Crime/Thriller
W: James Glickenhaus
DP: Robert M. Baldwin
Ed: Corky O'Hara
Mus: Joe Renzetti
Robert Ginty (John Eastland), Christopher George (Det. James Dalton), Samantha Eggar (Dr. Megan Stewart), Steve James (Michael Jefferson)
Some may know The Exterminator as one of the "video nasties" of the early 1980's, or even as a banned movie, but both claims are exaggerated.
This vigilante crime thriller takes some inspiration from Death Wish & Taxi Driver, starring Robert Ginty as an ex-Vietnam veteran who vows revenge when his friend is killed by a street gang and subsequently goes berserk on the seedy streets of New York City.
Repulsive and very cheaply made, notoriety was achieved through a nasty-looking beheading scene in the film's opening moments as well another gruesome scene involving a industrial-size mincer, the latter of which was used in a copycat murder case on the streets of America. 
An undeserved sequel followed four years later.
4/10