Evita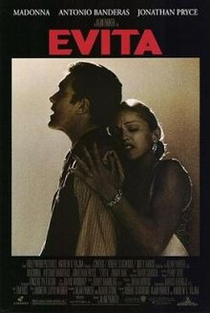 EVITA (PG)
D: Alan Parker
Buena Vista/Hollywood/Cinergi (Robert Stigwood, Alan Parker & Andrew G. Vajna)
USA 🇺🇸 1996
134 mins
Musical/Biopic
W: Alan Parker & Oliver Stone [based on the musical by Andrew Lloyd-Webber & Tim Rice]
DP: Dariusz Khondji
Ed: Gerry Hambling
Mus: Andrew Lloyd-Webber
PD: Brian Morris
Cos: Penny Rose
Madonna (Eva Perón), Jonathan Pryce (Juan Perón), Antonio Banderas (Ché), Jimmy Nail (Agustin Magaldi), Victoria Sus (Doña Juana Ibarguren)
From the stage sensation from Andrew Lloyd-Webber & Tim Rice, adapted for the screen by Alan Parker & Oliver Stone comes this musical biopic of the much-adored Argentinian First Lady, Eva Peron, as portrayed by Madonna with her finest screen performance by a country mile.
Charting her rise from humble beginnings to become a model and actress, before marrying Argentinian president Juan Peron and becoming a beloved figure for the people.
The songs throughout are rather hit and miss, with only "Don't Cry For Me Argentina" and the Oscar-winning "You Must Love Me" being truly memorable, but this epic is given such scope that it carries to the screen incredibly well due to picturesque cinematography, faithful production design and costumes, as well as an ensemble of great performances.
Madonna has never been better, earning a much deserved Best Actress Golden Globe for her work. It's quite an injustice that she didn't receive an Oscar nomination.
7/10