Everybody Wants Some!!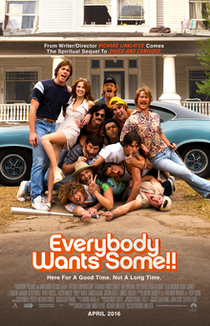 EVERYBODY WANTS SOME!! (15)
Paramount/Annapurna/Detour (Richard Linklater, Megan Ellison & Ginger Sledge)
Will Brittain (Billy Autrey), Blake Jenner (Jake Bradford), Zoey Deutsch (Beverly), Ryan Guzman (Kenny Roper), Tyler Hoechlin (Glen McReynolds), Glen Powell (Finn)
Richard Linklater returns to his roots with this "spiritual sequel" to Dazed & Confused (qv).
Set in 1980, the story follows a fraternity of college baseball players as they party their way to the impending semester.
The film settles for humorous realism over belly laughs and would be best appreciated by those who went to high school around the same period.
The soundtrack is great, but the film doesn't stick in the memory quite the way National Lampoon's Animal House does.
6/10