Eternal Sunshine of the Spotless Mind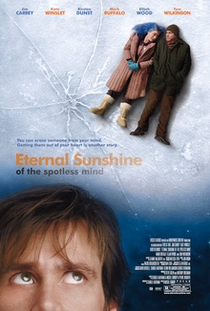 ETERNAL SUNSHINE OF THE SPOTLESS MIND (15)
D: Michel Gondry
Focus Features (Steve Golin & Anthony Bregman)
Comedy/Romance/Science Fiction
W: Charlie Kaufman, Michel Gondry & Pierre Bismuth
Ed: Valdis Oskarsdottir
Jim Carrey (Joel Barish), Kate Winslet (Clementine Kruczynski), Kirsten Dunst (Mary), Mark Ruffalo (Stan), Elijah Wood (Patrick), Tom Wilkinson (Dr. Howard Mierzwiak)
A surreal and imaginative film from the same mind which wrote Being John Malkovich & Adaptation.
Jim Carrey is a true revelation in this, delivering a performance without his usual overacting or facial calisthenics. He plays Joel, a regular chap who is left dumbfounded when he discovers that his flaky girlfriend (Kate Winslet) has had their relationship erased from her memory. Heartbroken, he undergoes the same treatment.
This truly original film does away with a chronological narrative as it takes us inside the fractured, suffering mind of Joel, as his psyche puts up barriers to prevent the deletion of his memories.
The plot, as complex as they come, serves up a labyrinth of visually nightmarish images, brilliantly realised by the screenwriter and director Michel Gondry. Jim Carrey & Kate Winslet's performances are unforgettable.
8/10