E.T. - The Extra Terrestrial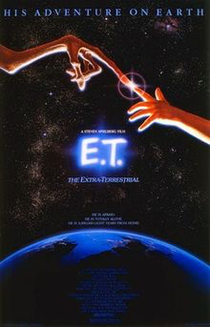 E. T. THE EXTRA TERRESTRIAL (U)
D: Steven Spielberg
Universal (Steven Spielberg & Kathleen Kennedy)
W: Melissa Mathison
DP: Allen Davieu
Ed: Carol Littleton
Mus: John Williams
Pd: James D. Bissell
Cos: Deborah L. Scott & Carlo Rambaldi
Dee Wallace (Mary), Peter Coyote (Keys), Henry Thomas (Elliott), Robert MacNaughton (Michael), Drew Barrymore (Gertie), K. C. Martel (Greg), Sean Frye (Steve), Tom Howell (Tyler), Erika Eleniak (Pretty Girl)
The most popular movie at the box office in the 1980's has dated quite well and is still considered one of the best family films of all time.
An alien is stranded on Earth and discovered by a young boy from a broken suburban family who befriends the creature and together they form a deep bond of friendship.
The movie can be viewed as a Christ allegory, a parable about the importance of a maternal figure or simply as a science fiction movie which both adults and young children can enjoy. John Williams' exhilarating music must surely be considered one of the greatest movie themes ever.
In 2002, a 'special edition' with new visual effects and recut scenes was released and did more harm than good, taking away some of the magic from the original film and rather mockingly insulting to the huge fanbase of the 1982 issue.
9/10