Erin Brockovich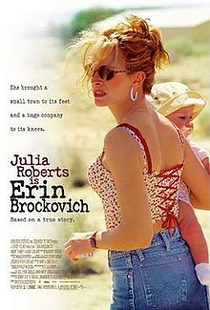 ERIN BROCKOVICH (15)
D: Steven Soderbergh
Columbia Tristar/Universal/Jersey Films (Michael Shamberg, Danny DeVito & Stacey Sher)
W: Susannah Grant
Julia Roberts (Erin Brockovich), Albert Finney (Ed Masry), Aaron Eckhart (George), Marg Helgenberger (Donna Jensen), Cherry Jones (Pamela Duncan), Veanne Cox (Theresa Dallavale), Peter Coyote (Kurt Porter)
Julia Roberts is the star of the show as the eponymous woman, a single mother and part-time lawyer who brought a gas & electric company to it's knees when it's discovered that they're poisoning the water supply of a nearby community.
Susannah Grant also deserves due credit for penning a screenplay packed with quippy, sassy dialogue for the lead actress which doesn't seem overly forced or pretentious.
Julia won an Oscar and Albert Finney received a well deserved supporting actor nomination. Aaron Eckhart also delivers a realistic performance as Erin's biker boyfriend, reluctantly relegated to a babysitter for her kids during her campaigning. Based on a true story.
8/10