Epic Movie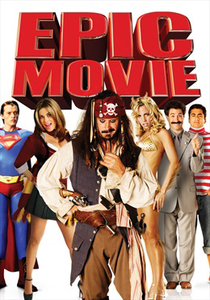 EPIC MOVIE (12)
D: Jason Friedberg & Aaron Seltzer
20th Century Fox/New Regency (Paul Schiff)
W: Jason Friedberg & Aaron Seltzer
Kal Penn (Edward Pervertski), Adam Campbell (Peter Pervertski / Superpeter), Jennifer Coolidge (The White Bitch of Gnarnia), Jayma Mays (Lucy Pervertski), Faune Chambers (Susan Pervertski), Crispin Glover (Willy), Tony Cox (Bink), Hector Jimenez (Mr. Tumnus / Tony Fauntana), Carmen Electra (Mystique)
Writer-director duo Jason Friedberg & Aaron Seltzer do their usual, throwing an idiotic plotless parody film together just for the sake of referencing all and sundry without bothering to include any jokes, except those that would only be found amusing by a twelve-year-old.
The Chronicles of Narnia get the lions share of the reference

s, but any film which proved a hit in the 10 years prior gets some kind of reference chucked in just for shits, but missing the vital ingredient of giggles.
To demonstrate the humour, the surname of the Pevensie has been changed to Pervertski, Narnia becomes Gnarnia, and The White Witch becomes The White Bitch. 
While, the filmmaking duo must have been in side-splitting hysterics while writing the script, the laughter didn't carry over to cinema auditoriums.
A pathetic excuse for entertainment.
1/10