Enemy at the Gates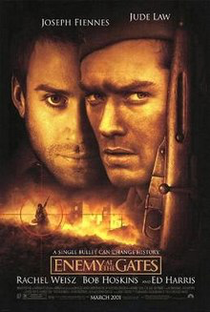 ENEMY AT THE GATES (15)
Pathé/Mandalay (John D. Schofield)
Germany/UK/Ireland/USA 🇩🇪 🇬🇧 🇮🇪 🇺🇸 2001
W: Alain Godard & Jean-Jacques Annaud [based on the book "Enemy at the Gates: The Battle for Stalingrad" by William Craig]
DP: Robert Fraisse
Jude Law (Vasili Zaitsev), Joseph Fiennes (Commisar Danilov), Rachel Weisz (Tania Chernov), Bob Hoskins (Nikita Khrushchev), Ed Harris (Maj. Erwin König), Ron Perlman (Koulikov)
A decently made war movie with moments of historical fact about a feud between two rival snipers following the fall of Stalingrad.
The major flaw is the casting decisions, with British and American actors cast and subsequently struggling to deliver a Russian accent, despite their best efforts.
Overall, it's an entertaining history lesson, but doesn't stick in the memory as much as other, more powerful war pictures.
6/10