The End of the Affair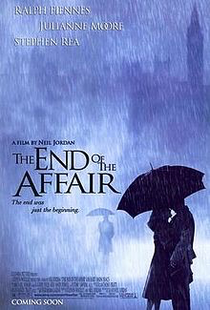 THE END OF THE AFFAIR (18)
D: Neil Jordan
Columbia (Stephen Woolley & Neil Jordan)
UK/Germany/USA 🇬🇧 🇩🇪 🇺🇸 1999
W: Neil Jordan [based on the novel by Graham Greene]
DP: Roger Pratt
Ralph Fiennes (Maurice Bendrix), Julianne Moore (Sarah Miles), Stephen Rea (Henry Miles), Ian Hart (Mr. Parkis), Jason Isaacs (Father Smythe), Samuel Bould (Lance Parkis)
A writer reflects on a doomed sexual affair which blossomed between him and a friend's wife in the days building up to the First World War.
Adapted from Graham Greene's novel, the references to religion are mostly set aside for more focus on the affair itself, beautifully lensed by cinematographer Roger Pratt, while the period is faithfully recreated by director Neil Jordan and the rest of his crew.
All the performances are excellent, with Julianne Moore the standout in an Oscar-nominated role.
7/10