Enchanted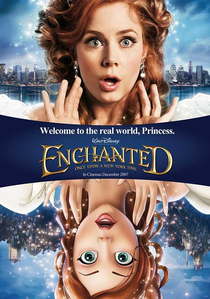 ENCHANTED (PG)
Buena Vista/Disney (Barry Josephson & Barry Sonnenfeld)
Ed: Stephen A. Rotter & Gregory Perler
Amy Adams (Princess Giselle), Patrick Dempsey (Robert), James Marsden (Prince Edward), Timothy Spall (Nathaniel), Idina Menzel (Nancy Tremaine)
Enchanted, like 2001's Shrek, pokes fun at the fairytale romance in a self-referential spoof style. The film begins with animation, but switches to live action when a princess is pushed down a well by a witch and is transformed into Amy Adams, who roams New York City still believing she's in her fairytale kingdom, searching for her Prince Charming.
Visually, the film is incredibly well done, especially in one of the more whimsical scenes where birds and creatures help Amy Adams tidy up a house.
Some of the songs are a little cloying and the end is a little saccharine, but Adams is delightfully enchanting in the lead and the story has the best intentions for a family-friendly movie.
6/10