Empire Records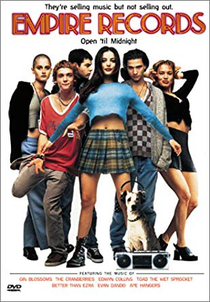 EMPIRE RECORDS (12)
Warner Bros./New Regency (Tony Ludwig, Alan Riche, Michael Nathanson & Arnon Milchan)
Anthony LaPaglia (Joe), Liv Tyler (Corey), Johnny Whitworth (A.J.), Rory Cochrane (Lucas), Renee Zellweger (Gina), Robin Tunney (Debra), Ethan Randall (Mark), Maxwell Caulfield (Rex Manning), Debi Mazar (Jane)
A mix between The Breakfast Club & Kevin Smith's Clerks, although the screenplay isn't quite as rounded as those two movies, Empire Records is quite sweet-natured at heart and an easy-going teen comedy, though it hasn't dated particularly well over two decades.
The story follows a group of high schoolers and Generation X-ers who work at an independent record store in Middle America  and their efforts to prevent their workplace becoming part of a big franchise.
Starring Renee Zellweger & Liv Tyler before their big breaks, the group of characters in this film tick almost every box of diversity. The oddball, the rocker, the stoner, the slut, the emo chick, the prefect and a sleazy pop star. All the cast work well together, but the main reason of enjoyment for me was it's excellent soundtrack of great songs, including two of my personal favourite bands of the 1990's, The The and The Gin Blossoms.
A guilty pleasure movie, if nothing more, recommended especially to music lovers.
6/10