Empire of the Sun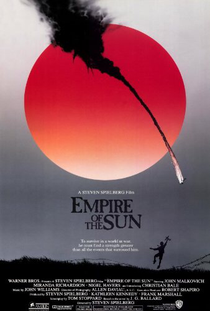 EMPIRE OF THE SUN (PG)
D: Steven Spielberg
Amblin (Steven Spielberg, Kathleen Kennedy & Frank Marshall)
W: Tom Stoppard [based on the novel by J. G. Ballard]
DP: Allen Davieu
Ed: Michael Kahn
Mus: John Williams
PD: Norman Reynolds
Cos: Bob Ringwood
Christian Bale (Jim Graham), John Malkovich (Basie), Miranda Richardson (Mrs. Victor), Nigel Havers (Dr. Rawlins), Joe Pantoliano (Frank), Leslie Phillips (Maxton), Masatu Ibu (Sgt. Nagata), Emily Richard (Mrs. Ballard), Rupert Frazer (Mr. Ballard)
This WWII epic, based on the semi-autobiographical novel by J. G. Ballard, is amongst Steven Spielberg's most underrated films, made by the director when he was trying to make more 'mature' choices following the success of E. T. & the Indiana Jones films.
Christian Bale delivers a phenomenal juvenile performance as a young boy who becomes separated from his parents in British Colonial China during Japanese occupation and matures behind the fences of a POW camp as the war progresses. John Malkovich also delivers a memorable performance as an unscrupulous American prisoner who the young boy becomes friends with.
The film is a true work of art, boasting superb cinematography and production design, plus a rousing John Williams music theme.
8/10