Elle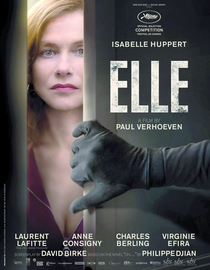 ELLE(18)
D: Paul Verhoeven
SBS/Pallas/France 2/Canal+ (Saïd Ben Saïd & Michel Merkt)
France/Germany 🇫🇷 🇩🇪 2016
130 mins
Drama/Thriller
W: David Birke [based on the novel "Oh..." by Philippe Duran]
DP: Stephane Fontaine
Ed: Job ter Burg
Mus: Anne Dudley
Isabelle Huppert (Michele Leblanc), Laurent Lafitte (Patrick), Anne Consigny (Anna), Christian Berkel (Robert), Virginie Efira (Rebecca), Charles Berling (Richard)
Isabelle Huppert deservedly won a Golden Globe award and received a Best Actress Oscar nomination for her lead performance as Michele Leblanc, a businesswoman in the games industry who is the victim of rape following a home invasion, opting not to report the crime to the police due to a bad experience with them in the past.
In the days that follow, she is harassed by her attacker and she grows increasingly suspicious of the men in her life, including her best friend's husband whom she was having an affair with.  Her relationship with her family also becomes stretched and she develops an obsession with a young handsome neighbour.
It's difficult subject matter, which has been tackled before in a far more exploitative way, but director Paul Verhoeven delivers in quite a tasteful way, making a parable between violence in real life and violence in the media both being welcomed into our homes.
The film was met with controversy upon its release, especially from feminist groups who found the topic distasteful and offensive, and though it is an audacious theme to undertake, it is done in the best possible taste.
7/10