Elizabeth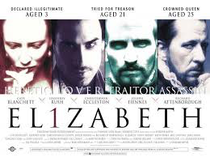 ELIZABETH (15)
Polygram/Channel 4/Working Title (Allison Owen, Tim Bevan & Eric Fellner)
DP: Remi Adefarasin
PD: John Mhyre
Cos: Alexandra Byrne
Cate Blanchett (Queen Elizabeth I), Geoffrey Rush (Francis Walsingham), Christopher Eccleston (Thomas Howard, Duke of Norfolk), Joseph Fiennes (Robert Dudley, Earl of Leicester), Richard Attenborough (William Cecil), Kathy Burke (Mary I of England)     
A rather staid and heavy-going historical drama about the former English monarch, Elizabeth I.
Great efforts have been done to recreate the Elizabethan period, with impeccable production design, costumes, makeup and photography whilst lead actress Cate Blanchett carries the film almost entirely with an enigmatic central performance. It drags impossibly slow in places, but overall makes a decent film, though it's unlikely to be subjected to repeat viewings.
A sequel, Elizabeth: The Golden Age, was released a decade later.
7/10