Election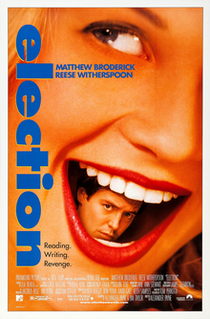 ELECTION (12)
Paramount/MTV/Bonafide (Albert Berger, Ron Yerxa, David Gale & Keith Samples)
W: Alexander Payne & Jim Wilson [based on the novel by Tom Perrotta]
Matthew Broderick (Jim McAllister), Reese Witherspoon (Tracy Flick), Chris Klein (Paul Metzler), Jessica Campbell (Tammy Metzler), Mark Harelik (Dave Novotny), Phil Reeves (Walt Hendricks), Molly Hagan (Diane McAllister), Delaney Driscoll (Linda Novotny), Colleen Camp (Judith Flick)
A witty and inventive satire, relocating the political chicanery and power struggles of an election campaign to the corridors of an American high school.
Reese Witherspoon plays prissy prefect Tracy Flick, front runner for the job of president for the school government. Her main competition comes from Mr. McAlistair, a teacher with a grudge, convinced that Tracy's seduction of a former teacher and close friend led to his dismissal from the high school. 
As McAlistair, Matthew Broderick delivers one of his most mature screen performances, a far cry from the days of Ferris Bueller, but the star of the picture is Reese Witherspoon as the cloying, manipulative and ambitious candidate, so blinkered by success that she pays no attention to how her actions affect others.
7/10