El Mariachi / Desperado / Once Upon a Time in Mexico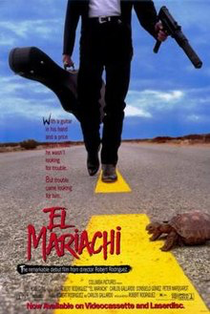 EL MARIACHI (18)
D: Robert Rodriguez
Columbia/Los Hooligans (Robert Rodriguez & Carlos Gallardo)
Carlos Gallardo (El Mariachi), Consuelo Gomez (Domino), Reinol Martinez (Azul), Peter Marquardt (Mauricio)
In terms of story and plot, El Mariachi really isn't anything special: a nomadic musician is mistaken for a hitman and hounded by a group of gangsters.
Filmmaker Robert Rodriguez deserves huge credit however for making a thrilling, action-packed Western which looks far more expensive than it's minuscule budget.
A few years later, he remade the film as Desperado (qv), armed with a much bigger budget and even more guns and bullets. Cinema audiences seemed to prefer the remake, but you simply can't detract from the ingenuity Rodriguez used for this original film.
It's noted that the film held a place in the Guinness Book of Records as the lowest budgeted film to gross over $1 million at the US box office.
6/10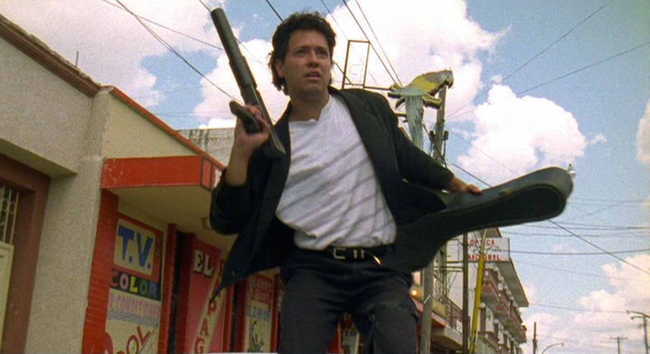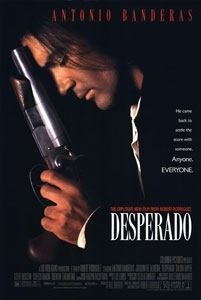 DESPERADO (18)
Columbia/Los Hooligans (Bill Borden & Robert Rodriguez)
W: Robert Rodriguez [based on his screenplay 'El Mariachi']
Antonio Banderas (El Mariachi), Salma Hayek (Carolina), Joaquin de Almeida (Bucho), Steve Buscemi (Buscemi), Cheech Marin (Short Bartender)
Robert Rodriguez remakes his own 1992 low-budget action movie El Mariachi with a souped-up budget and bigger stars in the lead roles. 
Enjoyably over-the-top, Rodriguez was clearly influenced by Hong Kong action movies such as those directed by John Woo and shows homage in his exaggeratedly drawn-out shoot outs, but unfortunately Desperado lacks the rawness of the original film. Nevertheless, most people prefer this version, and I kinda understand why.
6/10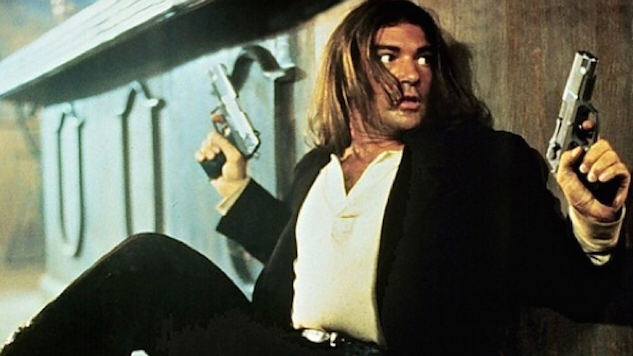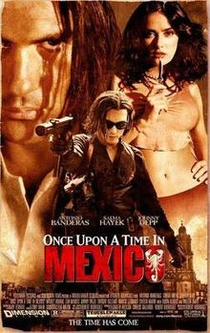 ONCE UPON A TIME IN MEXICO (18)
Columbia/Dimension (Elizabeth Avellán, Carlos Gallardo & Robert Rodriguez)
Antonio Banderas (El Mariachi), Salma Hayek (Carolina), Johnny Depp (Sheldon Jeffrey Sands), Mickey Rourke (Billy Chambers), Eva Mendes (Ajedrez Barillo), Danny Trejo (Cucuy), Enrique Iglesias (Lorenzo)
This sequel to El Mariachi/Desperado reunites director Robert Rodriguez with Antonio Banderas as the gunslinging outlaw, coming out of retirement to save the president of Mexico from assassination.     
There's some style in fits and starts, but overall this has about as much entertainment value as a cartoon. Johnny Depp steals the film as an eccentric assassin, but it's just all too silly to warrant any repeat viewings.
5/10