Edward Scissorhands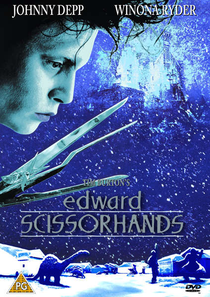 EDWARD SCISSORHANDS (PG)
20th Century Fox (Tim Burton & Denise de Novi)
W: Caroline Thompson & Tim Burton
Pd: Bo Welch
Cos: Colleen Atwood
Johnny Depp (Edward Scissorhands), Winona Ryder (Kim Boggs), Dianne Wiest (Peg Boggs), Anthony Michael Hall (Jim), Kathy Baker (Joyce)
Edward Scissorhands is arguably still Tim Burton's best collaboration with Johnny Depp, it's a contemporary fairytale romance mixed with Frankenstein.
Edward (Depp) is an artificial man created by a mad scientist, but left incomplete, with razor-sharp blades instead of hands. He is discovered in an abandoned house by an inquistive Avon lady (Wiest) who welcomes him into her home, where he subsequently falls in love with her daughter (Winona Ryder).
Tender romance and sentimental drama is finely balanced with humour as Edward attempts to settle into the suburban settings, but ultimately he discovers it's not where he belongs, leading to a beautifully bittersweet ending.
The film helped Johnny Depp's cinema career really take off and made Tim Burton a household name for his quirky, gothic style (following Beetlejuice and Batman). The production design, costumes, music and makeup effects are also impeccable. A true modern fairytale classic.
8/10