Educating Rita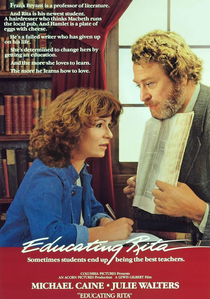 EDUCATING RITA (15)
Rank/Acorn (Lewis Gilbert)
W: Willy Russell [based on his play]
Michael Caine (Dr. Frank Bryant), Julie Walters (Susan 'Rita' White), Michael Williams (Brian), Maureen Lipman (Trish), Jeananne Crawley (Julia), Malcolm Douglas (Denny), Godfrey Quigley (Rita's Father)
It's a mesmerising big screen debut from Julie Walters, whose performance captures the attention for the most part of the movie, but Michael Caine's understated performance shines through in the film's final moments.
He plays an alcoholic literature tutor whose passion for the subject is revitalised when he coaches night student Susan (aka Rita), a working-class Liverpudlian, trying to better herself despite the wishes of her family.
Willy Russell's stage play translates to the screen well due to the excellence of the two main performances, arguably Michael Caine's best (yes, better than Alfie) and he certainly gets the best line of dialogue in the script.
The only thing which doesn't quite work is an intrusive music score which maybe worked in the 80's but jars the ear in more modern times. 
8/10