Eastern Promises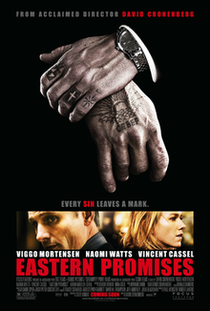 EASTERN PROMISES (18)
Focus Features/BBC/Astral Media/Corus/Telefilm Canada/Kudos (Paul Webster & Robert Lantos)
UK/Canada/USA 🇬🇧 🇨🇦 🇺🇸 2007
W: Steven Knight
Viggo Mortensen (Nikolai Luzhin), Naomi Watts (Anna), Vincent Cassel (Kirill), Armin Mueller-Stahl (Semyon), Sinead Cusack (Helen), Jerzy Skolimowski (Stepan), Donald Sumpter (Yuri)
A 14-year-old Russian prostitute dies during childbirth in a London hospital and Anna, the nurse who helped deliver the newborn baby, finds in her possession a diary which implicates members of the Russian mob of her rape.
Anna, of Russian origins herself, delves further into matters and becomes caught up amongst the lives of criminals. 
Eastern Promises begins with immediate bloodshed and the violence continues throughout. Naomi Watts' performance is excellent, but the film is stolen by Viggo Mortensen's Russian gangster.
Screenwriter Steven Knight tackled similar subject matter involving London's seedy underbelly in Dirty Pretty Things (qv), which has a better story, but this is a far more entertaining film.
7/10