East of Eden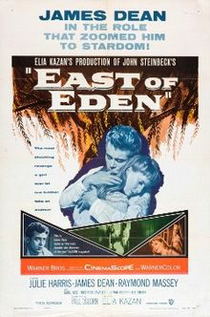 EAST OF EDEN (PG)
W: Paul Osborn [based on the novel by John Steinbeck]
James Dean (Caleb Trask), Raymond Massey (Adam Trask), Julie Harris (Abra Bacon), Richard Davalos (Aron Trask), Jo Van Fleet (Cathy Ames / Kate Trask), Burl Ives (Sam)
The biblical metaphors of John Steinbeck's original novel get lost in this adaptation, which gets a little too bogged down in soap opera melodramatics.
James Dean is fittingly moody as a rebellious adolescent who, against his strict father's wishes, frequently visits his mother, who runs a nearby brothel.
Towards the end of the film, the story becomes two brothers fighting over their distant father's affections. The performances are strong, but the narrative is quite turgid in places. 
It received a cult following, mostly James Dean fans, and his performances provided the first of his two posthumous Oscar nominations (the second was for Giant).
7/10