8 Mile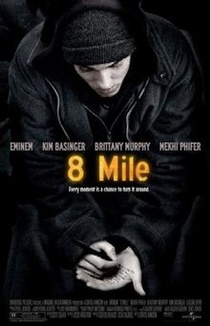 8 MILE (18)
Universal/Imagine (Brian Grazer, Curtis Hanson & Jimmy Iovine)
Ed: Jay Rabinowitz & Craig Kitson
Eminem (Jimmy 'B-Rabbit' Smith), Kim Basinger (Stephanie Smith), Brittany Murphy (Alex Latorno), Mekhi Phifer (Future)
A white street-rapper from a trailer trash background participates in a rap competition, which he wins. Oops, did I spoil the film there? Oh, come on. It was obvious.
Not unlike the life of its star Marshall Mathers III, the supposed semi-autobiographical storyline is nothing but fabricated nonsense.
Fans of Eminem will be wowed by his performance and the story of the film, but for those who aren't fans of his work will be left scratching their heads as to why this film received such critical acclaim. If anything, it weakens the mystery of the real life man behind the rap artist.
The only real plaudit the film really deserves is for the end credit song "Lose Yourself", which has some surprisingly decent lyrics, except for the extraneous namechecking of co-star Mekhi Phifer (why?). 
Like rap music itself, it's completely down to personal taste.
5/10