The Duellists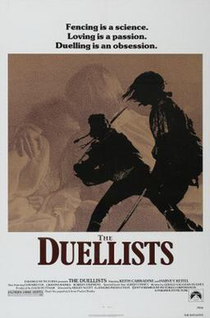 THE DUELLISTS (15)
D: Ridley Scott
Paramount/Enigma (David Puttnam)
UK 🇬🇧 1977
100 mins
Historical/Drama
W: Gerald Vaughan-Hughes [based on the short story "The Duel" by Joseph Conrad]
DP: Frank Tidy
Ed: Pamela Power
Mus: Howard Blake
PD: Peter J. Hampton
Cos: Tom Rand
Keith Carradine (Armand d'Hubert), Harvey Keitel (Gabriel Feraud), Albert Finney (Joseph Fouché), Cristina Fox (Adele), Robert Stephens (Brig. Gen. Treillard)
Ridley Scott's film debut is a historical drama set during the Napoleonic War, where two feuding officers whose disagreements spill over into a series of duels that span several years.
Carradine plays the mild-mannered Lieutenant Armand d'Hubert, whilst Harvey Keitel plays the more hot-headed Lieutenant, Gabriel Feraud.
The early scenes have tinged of black comedy, and the two men are ordered by their commanding officers not to engage in duelling, which only spurs their obsession with each other further.
Similarities could possibly be struck with the far superior Barry Lyndon, but this is still a solid debut from a director who would go on to make some classic movies.
The cinematography and period detail are very good and the choreography of the duelling scenes feel realistic. Solid for its time, but it has probably dated somewhat when watching it retrospectively.
7/10