The Descent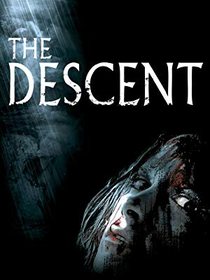 THE DESCENT (18)
DP: Sam McCurdy
PD: Simon Bowles
Shauna MacDonald (Sarah Carter), Natalie Mendoza (Juno Caplan), Alex Reid (Beth O'Brien), Saskia Mulder (Rebecca Vernet), Myanna Buring (Sam Vernet), Nora-Jane Noone (Holly)
When a potholing expedition goes wrong, a group of women find themselves trapped in unchartered caves with no means of escape and an inadequacy of survival gear. Their psychological and personal welfare is put to further test when they discover they are not alone and are being hunted by blind, vampire-like predators.
Unlike many modern horror films this maintains tension throughout, locking in the claustrophobia early on before pouring on the scares in abundance.
The acting isn't spectacular, but it is made up for with the atmospheric cinematography and production design. 
7/10