The Departed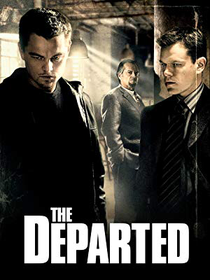 THE DEPARTED (18)
D: Martin Scorsese
Warner Bros./Initial/Plan B/Vertigo (Brad Pitt, Brad Grey & Graham King)
W: William Monahan [based on the screenplay 'Infernal Affairs' by Alan Mak & Felix Chong]
Ed: Thelma Schoonmaker
Leonardo DiCaprio (William 'Billy' Costigan), Matt Damon (Colin Sullivan), Jack Nicholson (Frank Costello), Martin Sheen (Captain Queenan), Mark Wahlberg (Staff Sgt. Dignam), Ray Winstone (Mr. French), Alec Baldwin (Ellerby), Vera Farmiga (Madolyn)
Based on a Japanese trilogy of crime movies and relocated to Boston, Massachusetts, an undercover cop infiltrates his way into the mob hierarchy, whilst a young cop with ties to the head gangster is simultaneously promoted through the ranks. 
A fantastic piece of ensemble casting, with villains playing good guys, good guys playing villians and a mixture of both thrown into the mix. Leonardo di Caprio, Jack Nicholson, Martin Sheen & Marc Wahlberg are standouts of the cast, but everybody involved deserves their fair share of credit.
It isn't Scorsese's best film, but it certainly falls in his top 10 and saw him win a deserved (and belated) Oscar for a glittering career of magnificent movies. It also proves that he can tackle remakes without deviating from the quality of the original.
9/10