The Deep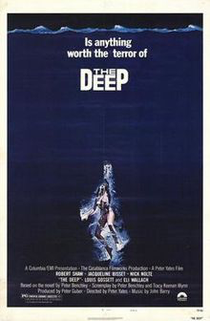 THE DEEP (15)
Columbia/EMI/Casablanca (Peter Guber)
W: Peter Benchley & Tracy Keenan Wynn [based on the novel by Peter Benchley]
DP: Christopher Challis
Jacqueline Bisset (Gail Berke), Nick Nolte (David Sanders), Robert Shaw (Romer Treece), Louis Gossett, Jr. (Henri Bondurant), Eli Wallach (Adam Coffin)
It's quite obvious early on that The Deep is a cash-in on the enormous success of Jaws, whether the author of the original novel, Peter Benchley, intended it or not.
Jacqueline Bisset and Nick Nolte play a couple of holidaymakers who discover a shipwreck while scuba-diving off the coast of Bermuda. The treasures which they find attract the attentions of a group of pirates, who have their own reasons for locating the sunken ship. Robert Shaw also appears as a character which is so similar to Quint, it might as well be the same character.
As an action film, there's barely any action, and the adventure really isn't that adventurous. The only thrills come in the underwater scenes, of which there are plenty, all benefitting marvellously from the excellent underwater cinematography. Unfortunately, it's the plot which sinks without trace.
5/10