The Death of Stalin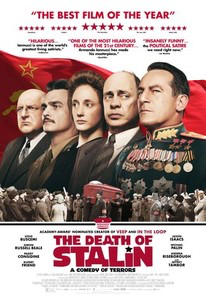 THE DEATH OF STALIN (15)
D: Armando Ianucci
eOne/IFC/Gaumont (Yann Zenou, Laurent Zeitoun, Nicolas Duval Adassovsky & Kevin Loader)
UK/France/Belgium 🇬🇧 🇫🇷 🇧🇪 2017
107 mins
Comedy/Political
W: Armando Ianucci, David Schneider, Ian Martin & Peter Fellows[based on the graphic novel "La Mort de Staline" by Fabian Nury & Thierry Robin]
DP: Zac Nicholson
Ed: Peter Lambert
Mus: Chris Willis
Steve Buscemi (Nikita Khrushchev), Simon Russell Beale (Lavrentiy Beria), Jeffrey Tambor (Georgy Malenkov), Paddy Considine (Andrey Andreyev), Rupert Friend (Vasily Stalin), Jason Isaacs (Georgy Zhukov), Michael Palin (Vyacheslav Molotov), Andrea Riseborough (Svetlana Stalina)
The creators of British TV show 'The Thick Of It' take their style of political satire beyond the iron curtain to Cold War era Soviet Union for this 2017 comedy, laced with political incorrectness and acerbic dialogue.
Set in the corridors of power in the days leading up to and following the death of communist dictator Vasily Stalin, the film takes much glee in poking fun at the chaos surrounding the political regime and the historical characters involved in it.
It probably helps to be fans of Armando Ianucci's other works, particularly The Thick Of It or its cinematic spinoff In The Loop, and even have some knowledge of Soviet history, but even without there are plenty of moments which should raise a smile. It does a feel a little smug in places, but this is still an intelligent, frequently funny piece of work. 
7/10