The Day The Earth Stood Still (1951/2008)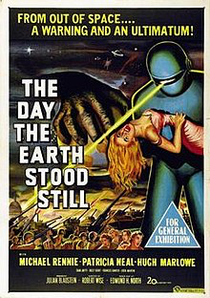 THE DAY THE EARTH STOOD STILL (PG)     
D: Robert Wise
20th Century Fox (Julian Blaustein)
W: Edmund H. North [based on the short story "Farewell To The Master" by Harry Bates]
Mus: Bernard Herrmann
Michael Rennie (Klaatu), Patricia Neal (Helen Benson), Hugh Marlowe (Tom Stephens), Sam Jaffe (Prof. Jacob Barnhardt), Billy Gray (Bobby Benson)
A science fiction with Cold War allegories which became a milestone in the the genre. The story concerns an alien and his robot aide who visits Washington DC to warn the world what will happen if wars continue.
This was the first movie to show a "flying saucer", a memorable movie robot and a line of dialogue ("Klaatu Barada Nikto") which itself achieved cult status, make this a bonafide classic of the sci-fi genre.
Quite dated after 60 years but a momentous achievement at the time. The remake doesn't deserve to bear its title.
8/10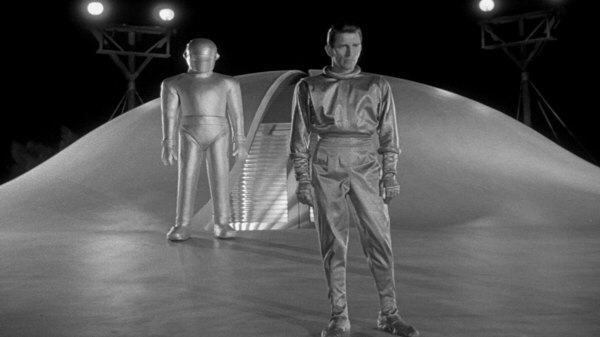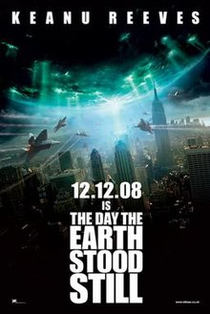 THE DAY THE EARTH STOOD STILL (12)
20th Century Fox (Erwin Stoff, Gregory Goodman & Paul Harris Boardman)
W: David Scarpa [based on the 1951 screenplay by Edmund H. North]
Keanu Reeves (Klaatu), Jennifer Connelly (Helen Benson), Jaden Smith (Jacob Benson), John Cleese (Prof. Karl Bernhardt), Kathy Bates (Regina Jackson)
A pathetic remake of the 1951 film which lacks narrative cohesion and has some of the worst acting performances ever committed to celluloid.  Keanu Reeves is more wooden than he usually is as an alien messenger warning the world of impending doom.  Jennifer Connelly tries her best with what she's given as a single mother to Jaden Smith, who delivers possibly the most irritating juvenile performance in the history of cinema.  If that little brat is the history of the planet, I was actually hoping that the film was going to end with the apocalypse.
The story completely takes the piss when Keanu's 'alien' decides to go for a McDonald's. 
To hell with this version! Watch the 1951 film instead.
2/10