The Day of the Jackal / The Jackal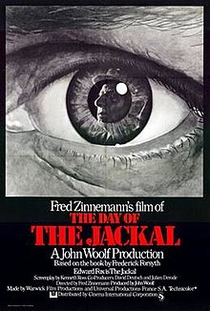 THE DAY OF THE JACKAL (18)
D: Fred Zinnemann
Universal/Warwick (John Woolf & David Deutsch)
W: Kenneth Ross [based on the novel by Frederick Forsyth]
Ed: Ralph Kemplen
Edward Fox (The Jackal), Michael Lonsdale (Dep. Commissioner Claude Lebel), Alan Badel (The Minister)
Edward Fox gives a cold, emotionless and calculating performance as The Jackal, an assassin hired to take out French president Charles de Gaulle, while British and French forces unite to stop him.
It's a low-key but incisive piece of work, based on Frederick Forsyth's best selling novel. Remade in 1997 simply as 'The Jackal'.
7/10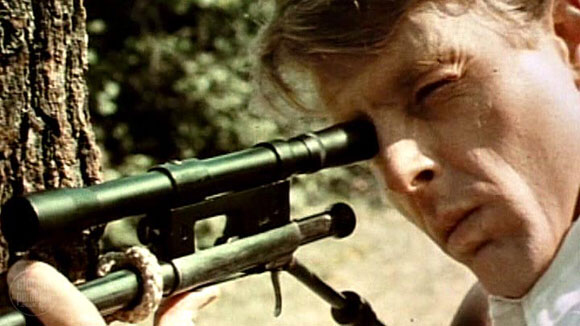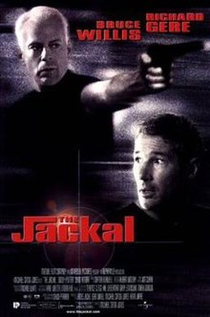 THE JACKAL (15)
Universal/Mutant/Alphaville (James Jacks, Sean Daniel, Michael Caton-Jones & Kevin Jarre)
W: Chuck Pfarrer [based on the novel "The Day Of The Jackal" by Frederick Forsyth]
DP: Karl Walter Lindenlaub
Bruce Willis (The Jackal), Richard Gere (Declan Joseph Mulqueen), Sidney Poitier (Carter Preston), Diane Venora (Maj. Valentina Koslova), J.K. Simmons (Timothy Witherspoon), Mathilda May (Isabella Celia Zancona)
Pathetically miscast remake of The Day Of The Jackal (qv). In your face with Bruce Willis' sexual ambiguity as the gunman hired to kill an American politician (he's also far more expensive in this version that the 1974 original).
Willis' performance is Oscar worthy, however, when compared to Richard Gere's laughably bad IRA/KGB/Basque terrorist. His mishmashed accent is quite possibly the worst ever to be committed to film.
3/10