The Dark Knight (trilogy)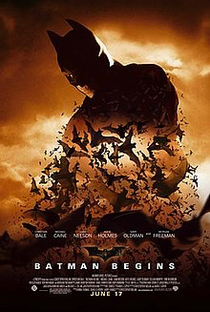 BATMAN BEGINS (12)

D: Christopher Nolan
Warner Bros. (Charles Roven, Emma Thomas & Larry Franco)
W: Christopher Nolan & David S. Goyer [based on the DC Comics & Characters created by Bob Kane]
DP: Wally Pfister
Mus: Hans Zimmer & James Newton Howard
PD: Nathan Crowley
Christian Bale (Bruce Wayne/Batman), Michael Caine (Alfred), Liam Neeson (Ducard), Katie Holmes (Rachel Dawes), Gary Oldman (Jim Gordon), Cillian Murphy (Dr. Jonathan Crane), Tom Wilkinson (Carmine Falcone), Ken Watanabe (Ra's Al Ghul), Morgan Freeman (Lucius Fox), Rutger Hauer (Earl)
Christopher Nolan saved the Batman franchise from the doldrums it was left in following Joel Schumacher's risible Batman & Robin.
Christian Bale gets his action man routine on as Batman and does a pretty good job as Bruce Wayne, while fine support comes from screen veterans Michael Caine, Morgan Freeman, Liam Neeson, Tom Wilkinson & especially Gary Oldman, who never really got his due credit for his performance as Commissioner Gordon in both this or the sequel, The Dark Knight.
Batman Begins fully explores the Bruce Wayne psyche following the murder of his parents and his alter ego coming into being and portrays the superhero as vigilante ninja, totally eradicating the groan-inducing campiness of the 60's TV show and Joel Schumacher's terribly misjudged contribution to the franchise.  It maintains the dark, gothic images and style which Tim Burton brought to his 1989 version of the film, which perhaps makes it unsuitable for very young children.
Nolan also handles the action scenes with maturity and brings a convincing science to Batman's gadgets and the underbelly of Gotham City's criminal network and the ending provides a nice segue which takes off straight away in The Dark Knight (qv).
Wally Pfister's atmospheric photography and Nathan Crowley's production design deserve mentions, simply for creating the most visceral and realistic Batman movie to the big screen (at the time of it's release at least) and the visual effects, CGI, models and miniatures were all handled with genuine craft and attention.
The only thing that prevents this movie a higher rating is the limp performance of Katie Holmes as childhood friend & love interest of Bruce Wayne, Rachel Dawes.  Thankfully, Maggie Gyllenhaal took up the reins for the character in the next film.
8/10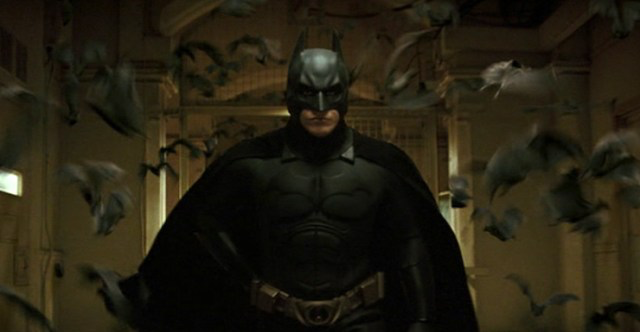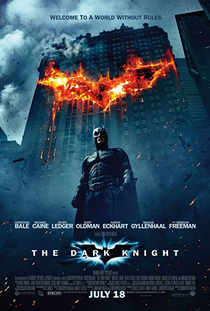 THE DARK KNIGHT (12)
D: Christopher Nolan
Warner Bros./Legendary/Syncopy (Charles Roven, Emma Thomas & Christopher Nolan)
W: Jonathan Nolan & Christopher Nolan [based on characters created by Bob Kane] 
DP: Wally Pfister
Ed: Lee Smith
Mus: Hans Zimmer & James Newton Howard
PD: Nathan Crowley
Cos: Lindy Hemming
Christian Bale (Bruce Wayne / Batman), Heath Ledger (The Joker), Michael Caine (Alfred), Gary Oldman (Lieutentant Jim Gordon), Aaron Eckhart (Harvey Dent / Two Face), Maggie Gyllenhaal (Rachel Dawes), Morgan Freeman (Lucius Fox)
In a way, we have to thank Joel Schumacher for destroying the franchise with Batman Forever & the truly diabolical Batman and Robin, if only so that the course of events would result in Christopher Nolan revitalising it with Batman Begins, and this installment which, ironically, isn't as dark in theme, but is much better, owing more to crime thrillers of the 1940's and 50's rather than the comic book genre.
Christian Bale fills the boots of both Bruce Wayne & the Caped Crusader a lot better than his predecessors have, and Heath Ledger delivers the performance of his career, and the best supporting performance of the year as the manic, cackling Joker, his facial expressions and weird twitches simply are worth his Oscar win alone. Gary Oldman and Aaron Eckhart are also notable supportiing performance, but are simply blown blown out the water whenever Heath Ledger is on screen.  Maggie Gyllenhaal also does well as Katie Holmes' character in the previous installment.  It's rather poignant that Heath ended his career on such a high, with what WILL be the performance he'll forever be remembered for.
The movie isn't all about Ledger's Joker portrayal, set a few years after the events in Batman Begins, when the vigilante crime fighter has become a symbol of hope to the lawless city of Gotham, whom noble District Attorney Harvey Dent champions. Meanwhile, the organised crime gangs are at odds with each other over the theft of their money, to which the Joker enters the fray, a manic psychopath who simply wants to see the city burn.
The theme of the film runs deep, coming off more as a film noir which just happens to have Batman in it.
There's much build up in-between the action set pieces, but when they do come, they're nothing short of spectacular. 
Even if you're not a fan of comic book or superhero movies, The Dark Knight is well worth a watch.
9/10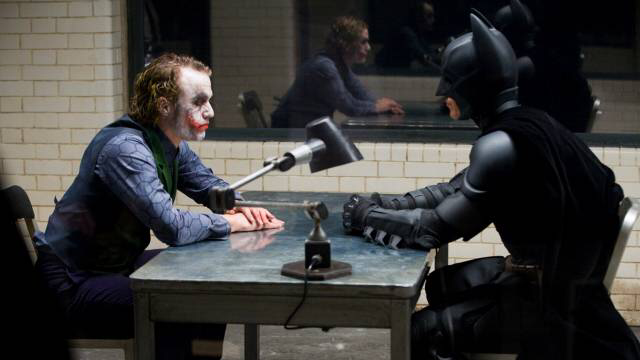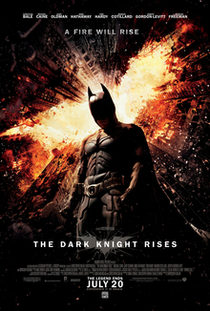 THE DARK KNIGHT RISES (12)
Warner Bros./Legendary/Syncopy (Charles Roven, Emma Thomas & Christopher Nolan)
W: Jonathan Nolan & Christopher Nolan [based on characters created by Bob Kane]     
DP: Wally Pfister
Ed: Lee Smith
PD: Nathan Crowley
Christian Bale (Bruce Wayne / Batman), Michael Caine (Alfred Pennyworth), Gary Oldman (Commissioner James Gordon), Anne Hathaway (Selina Kyle / Catwoman), Tom Hardy (Bane), Marion Cotillard (Miranda Tate / Talia Al-Ghul), Joseph Gordon-Levitt (John Blake), Morgan Freeman (Lucius Fox)
I've very mixed emotions on this. On one hand it continues Christopher Nolan's amazing vision that he brought with Batman Begins & The Dark Knight complete with stunning set pieces, complex characters and amazing special effects, but another part of me feels a bit cheated. Batman Begins & The Dark Knight deserved a better closing chapter.
This movie certainly has merit, but I just can't ignore the shortcomings.
Bane is a truly malevolent villain, but the sound simply prevents you from hearing what he's saying for the majority of this movie. It's imperative to have seen the first of Nolan's trilogy so you're familiar with Ra's Al Ghul, the League of Shadows, etc. etc. This wasn't necessary with The Dark Knight, it continued the theme and made reference without making it a necessity. 
Most of all that disappointed was that the screenplay called to cram so much into the running time and tie up all the loose ends that the last hour or so seemed like overkill. It left loose ends too!!
As for the storyline, it lacked depth: Bruce Wayne is now a half crippled invalid who comes out of retirement to stop Bane & his henchmen and their plan to destroy Gotham, but Batman doesn't use any cunning to defeat him. It's just all too easy.
Batman is defeated the first time he meets Bane and is vanquished to an inescapable prison, which he ends up escaping from and it's all just too easy. 
I actually liked Anne Hathaway's portrayal of Catwoman, I also thought Tom Hardy caught the right look of Bane but he didn't have to do much except look scary. Michael Caine, Morgan Freeman, Gary Oldman & Joseph Gordon-Levitt are all fine, but Christian Bale just seemed like he's had enough of it all now.
Also, Christopher Nolan needs to stop using Marion Cotillard as villains because it's getting too predictable.
I enjoyed huge aspects of this and wouldn't say it was a bad movie or even a huge disappointment- it simply isn't as good as the first two in the Nolan trilogy. At least it still dumps on the Joel Schumacher Batman movies.
7/10