The Dark Crystal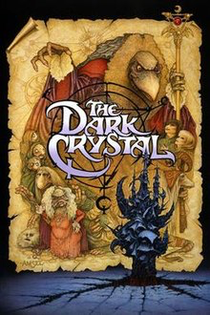 THE DARK CRYSTAL (PG)
Universal/AFD/ITC (David Lazer)
voices of: Stephen Garlick (Jen), Lisa Maxwell (Kira), Billie Whitelaw (Aughra), Percy Edwards (Fizzgig),
An unfortunate box office failure which probably deserved more attention, though it did find an audience when it was released on home video...
Arguably, this is a reimagination of The Lord Of The Rings, with muppets. 
Featuring the talents of Jim Henson and Frank Oz, the fantasy takes us on a journey with Jen, an elf-like creature who must return a shard to a powerful jewel and bring balance to the kingdom.
It's very well made and brilliantly designed, but quite dark thus making it rather unsuitable for younger children.  A good piece of 1980's nostalgia for those who remember it.
6/10