Dünyayi Kurtaran Adam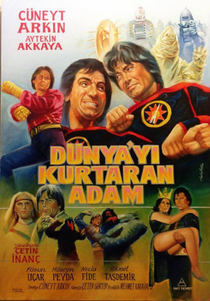 DÜNYAYI KURTARAN ADAM (THE MAN WHO SAVED THE WORLD) (12)
D: Çetin Inanç
Anit Ticaret (Mehmet Karahafiz & Tim Ubels)
Turkey 🇹🇷 1982
91 mins
Science Fiction
W: Cüneyt Arkin 
DP: Çetin Gürtop
Ed: Necdet Tok
Cüneyt Arkin (Murat), Aytekin Akkaya (Ali), Füsun Uçar (Bilgin'in Kizi)
Produced at a time when western films were banned from Turkey, and copyright law with the countries borders were totally non-existent, this B-movie utilised footage from popular American movies and ultimately became known as Turkish Star Wars.
The plot has nothing to do with George Lucas' blockbuster hit, instead focusing on a space pilot who crash lands and has to battle an evil wizard in order to save Earth.
The storyline is totally incoherent and far too much of the film is made up from Star Wars footage. Despite being terrible, it has gathered a modest cult following, mostly from Star Wars fans, but it has also been called the worst Turkish movie ever made. It really isn't worth watching.
1/10