Dumbo (1941/2019)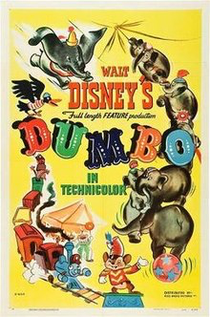 DUMBO (U)
D: Ben Sharpsteen
RKO/Disney (Walt Disney)
USA 🇺🇸 1941
64 mins
Animated 
W: Otto Englander, Joe Grant & Dick Huemer [based on the story by Helen Aberson & Arnold Pearl]
Mus: Frank Churchill & Oliver Wallace
voices of: Edward Brophy (Timothy Mouse), Verna Felton (Elephant Matriarch), Cliff Edwards (Jim Crow), Herman Bing (The Ringmaster), Sterling Holloway (Mr. Stork)
Walt Disney's personal favourite of all his animated feature films, possibly because it saved his studio from financial ruin after the box office failure of Fantasia. At a mere 64 minutes, Dumbo is the shortest of the Disney animated classics, and for me, I personally think it's one of the weakest.
Of course, if I were to watch this in 1941, I may have thought differently but looking back retrospectively, I just think it was an easy profit earner for Uncle Walt.
Based on a children's story by Helen Aberson, the story follows the title character, a mute elephant with oversized ears, who, with the help of his friend Timothy Mouse and some racially-caricatured crows, discovers his ability to fly.
The film is very much stuck in its own time, set in 1940's America and seemingly very dated now.
The music, songs and standard of animation are all good for the period, but it really hasn't withstood its age like Pinocchio or Snow White & The Seven Dwarfs have, even though both precede this movie.
It's no surprise that a live action remake (directed by Tim Burton) was released in 2019. If anything, Disney Studios profit-driven ambition will always try to be a successful one.
6/10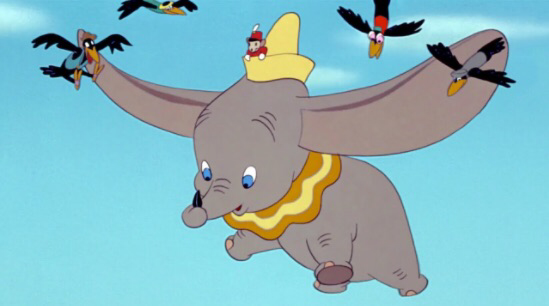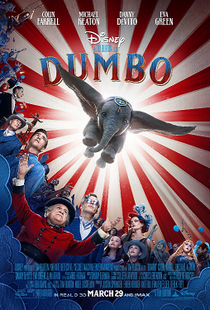 DUMBO (PG)
D: Tim Burton
Disney/Infinite Detective/Secret Machine (Justin Springer, Ehren Kruger, Katterli Frauenfelder & Derek Frey)
USA 🇺🇸 2019
112 mins
Fantasy/Comedy/Adventure
W: Ehren Kruger [based on the 1941 screenplay by Otto Englander, Joe Grant & Dick Heumer, and "Dumbo, The Flying Elephant" by Helen Aberson & Harold Pearl]
DP: Ben Davis
Ed: Chris Lebenzon
Mus: Danny Elfman
PD: Rick Heinrichs
Cos: Colleen Atwood
Colin Farrell (Holt Farrier), Nico Parker (Milly Farrier), Finley Hobbins (Joe Farrier), Danny DeVito (Max Medici), Michael Keaton (V.A. Vandevere), Eva Green (Colette Marchant)
As someone who didn't think a great deal of the original 1941 version of Dumbo, my expectations were quite low for this, especially since I'm really not a fan of Disney eating its own tail with the seemingly never-ending live action remakes of its own back catalogue.
Thus far, these remakes have either been photorealistic shot-for-shot versions of the same story (Beauty & The Beast, Aladdin, The Lion King), or the story has been tweaked significantly enough for it to be considered a "re-imagination" (The Jungle Book, Maleficent). Thankfully, Dumbo falls into the latter category, which is probably for the best, considering the criticism the original film receives from modern audiences for some racial caricatures.
Timothy Mouse is also absent in this version, as the story tries to be as realistic as possible, considering it's about a flying elephant. The maligned outcast of the travelling circus here gets its courage instead from two children and their father, an injured war veteran now working as an animal trainer.
From a technical standpoint, the film ticks all the right boxes, with superb production values, impressive visual effects, poignant music, dreamlike cinematography and effective performances from the cast.
The story also includes a rather bizarre twist, where the star attraction of an independent business comes into the control of a world famous theme park, run with an iron fist by a ruthless megalomaniac. Make of that what you will.
6/10