Dumb & Dumber (1 & 2)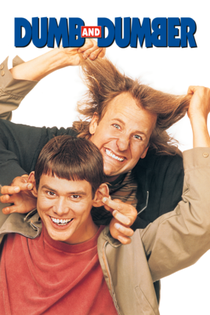 DUMB & DUMBER (12)
New Line/MPCA (Charles B. Wessler, Brad Krevoy & Steve Stabler)
W: Peter Farrelly & Bobby Farrelly
Ed: Christopher Greenbury
PD: Sidney J. Bartholomew
Jim Carrey (Lloyd Christmas), Jeff Daniels (Harry Dunne), Lauren Holly (Mary Swanson), Mike Starr (Joe Mentalino), Karen Duffy (J.P. Shay)
With Dumb & Dumber, writers Peter & Bobby Farrelly gave birth to a new sub-genre of cinema comedy which flooded the screens for several years following... the "gross-out comedy".
Jim Carrey mugs relentlessly throughout as idiotic limo driver Lloyd Christmas, who, along with his equally dim-witted friend and housemate, Harry, travel across America to the snowy climes of Aspen to return a briefcase to it's owner, a beautiful young woman with whom Lloyd is romantically infatuated (who also doesn't actually want the briefcase back since it contained ransom money for her kidnapped husband).  Whilst on the road, the two numbskulls are pursued by a group of mobsters and end up squandering the money on themselves.
The title isn't wrong, this film is dumb (and gets dumber), but that doesn't prevent it from being rip-roaringly hilarious. Jim Carrey's rubberface act can get annoying in some parts, but it's wholly necessary to point out what a complete and utter idiot his character is, complete with chipped tooth and bowl haircut. Jeff Daniels also holds his own, but is frequently upstaged by his co-star.
A prequel "Dumb & Dumberer" followed less than a decade later, but without the acting talents in this original film it struggled to make any waves at the box office. A sequel also emerged in 2014, but was more painful than it was funny.
7/10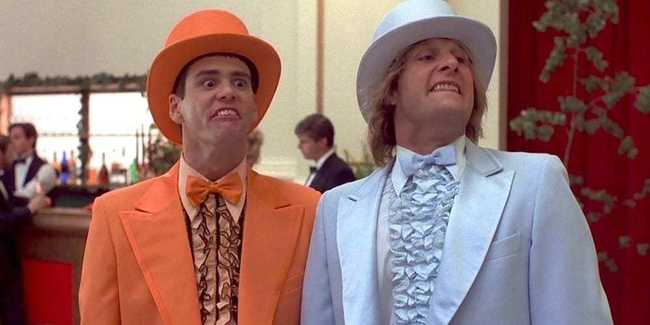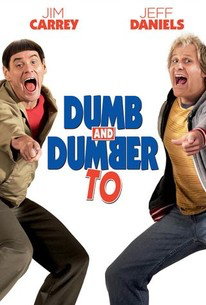 DUMB & DUMBER TO (DUMB & DUMBER 2) (12)
D: Peter Farrelly & Bobby Farrell
Universal/New Line/Red Granite (Charles B. Wessler, Riza Aziz, Joey MacFarland & Bradley Thomas)
USA 🇺🇸 2014
109 mins
Comedy
W: Peter Farrelly, Bobby Farrelly, Sean Anders, John Morris, Bennett Yellin & Mike Cerrone
DP: Matthew F. Leonetti
Ed: Steven Rasch
Mus: Empire Of The Sun
Jim Carrey (Lloyd Christmas), Jeff Daniels (Harry Dunne), Laurie Holden (Adele Pinchelow), Rob Riggle (Travis / Captain Lippencott), Kathleen Turner (Fraida Felcher), Rachel Melvin (Penny)
20 years after the enormous success of the original Dumb & Dumber movie comes this inferior sequel which features more writers credited to the screenplay than it does laugh out loud moments.
The majority of the plot is even ripped off from the 1997 film Fathers' Day as our dumbass duo Harry & Lloyd hit the road again, this time in an attempt to find Harry's long lost daughter, who seems to be as thick as he is.
While in the first film, the duo had funny mishaps which were at the expense at other characters, their actions in this feel a lot more spiteful and unpleasant.
It looks like Jim Carrey may have to push his serious side a little bit more, the rubberface stuff just doesn't cut it anymore.
4/10