Duel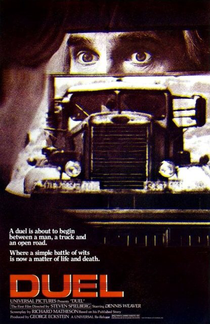 DUEL (PG)
D: Steven Spielberg 
Universal (George Eckstein)
W: Richard Matheson [based on his story]
Dennis Weaver (David Mann), Jacqueline Scott (Mrs. Mann)
Steven Spielberg's directorial debut originally aired as a TV movie of the week before a limited theatrical release followed because of popularity and good reviews
Technically, the film is as impressive as any studio-funded film released around the same time and despite being shackled by a low budget, the film doesn't suffer with a lack of thrills and tension.
Dennis Weaver plays a businessman on the road in Middle America, hunted by a faceless menace for reasons of ambiguous mystery when a truck driver stops at nothing to drive the meek-mannered man off the road and to certain death.
Weaver is excellent as the one-man cast for the majority of the movie, as his paranoia escalates and his plight continues.
It may be a TV movie, but it's still one of the great directorial debuts of all time.
8/10