Duel in the Sun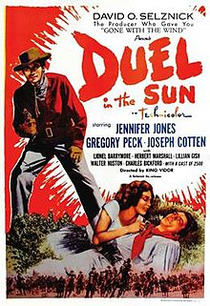 DUEL IN THE SUN(PG)
D: King Vidor
Selznick International (David O. Selznick)
USA 🇺🇸 1946
138 mins
Western/Romance
W: Oliver H.P. Garrett [based on the novel by Niven Busch]
DP: Lee Garmes, Harold Rosson & Ray Rennahan
Ed: Hal C. Kern & William Ziegler
Mus: Dimitri Tiomkin
PD: J. McMillan Johnson & James Basevi
Cos: Walter Plunkett
Jennifer Jones (Pearl Chavez), Gregory Peck (Lewt McCanles), Joseph Cotten (Jess McCanles), Lionel Barrymore (Sen. McCanles), Lillian Gish (Laura Belle McCanles), Herbert Marshall (Scott Chavez)
Nicknamed 'Lust In The Dust' by many a critic, Duel In The Sun was producer David O. Selznick's vainglorious attempt to recreate the enormous success of Gone With The Wind, to which it fails on every single level.
Mexican-American Pearl Chavez (Jennifer Jones) is caught up in a love triangle between two brothers, one a man of morals (Joseph Cotten) and the other a wild outlaw who lives by his own rules (Gregory Peck). Of course, it's obvious that the bad boy is going to stoke her fires, so she spends a lot of the film crying over him whilst trying to maintain a steamy image of beauty.
Though the performances are good, sans Butterfly McQueen who merely reprises her racist stereotype from GWTW, and the production values are particularly impressive for 1946, the story is a dirge of a soap opera set amongst horses and the desert.
David O. Selznick ruled over the project with an iron fist, causing many to be fired from or leave the project which makes it a little more understand that the finished project is all a bit of a mess.
6/10