Duck Soup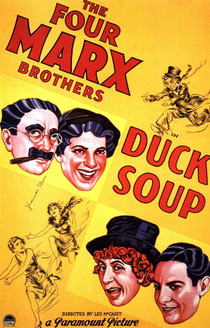 DUCK SOUP(U)
D: Leo McCarey
Paramount (Herman Mankiewicz)
USA 🇺🇸 1933
68 mins
Comedy
W: Bert Kalmar, Harry Ruby, Arthur Sheekman & Nat Perrin
DP: Henry Sharp
Ed: LeRoy Stone
Mus: Bert Kalmar & Harry Ruby
PD: Hans Dreier & Wiard Ihnen
Groucho Marx (Rufus T. Firefly), Chico Marx (Chicolini), Harpo Marx (Pinky), Zeppo Marx (Bob Roland), Margaret Dumont (Mrs. Teasdale), Louis Calhern (Ambassador Trentino)
This classic Marx brothers comedy is quite simply the easiest of their works to engage with, mixing goofy slapstick with political satire for a truly memorable piece of cinema magic.
The screenplay is tailored perfectly for Groucho Marx's shtick, as he plays an incompetent called Rufus T. Firefly, who is made president of the fictional country of Freedonia during a period of impeding civil war.
Though the production itself feels a little dated, the dialogue is still as funny as it ever was. Real life dictator Benito Mussolini found the film so offensive, he banned it in Italy, much to the Marx Brothers joy.
If you only plan on catching one vehicle starting the fraternal comedy quartet, make it this one. Bursting with brilliant gags during its modest 68 minute running time.
9/10