Drugstore Cowboy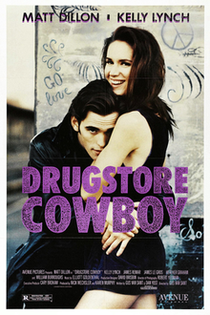 DRUGSTORE COWBOY (18)
D: Gus Van Sant
Avenue (Nick Wechsler & Karen Murphy)
W: Gus Van Sant & Daniel Yost [based on the novel by James Fogle]
Matt Dillon (Bob Hughes), Kelly Lynch (Dianne), James LeGros (Rick), Heather Graham (Nadine), James Remar (Gentry), Grace Zabriskie (Mrs. Hughes), William S. Burroughs (Tom)
A surreal and poetic melodrama about a group of drug addicts who drive through America robbing drugstores to fund their habit.
All the performances on display are good and Gus Van Sant's austere, low-key direction gives the film a spartan, desperate atmosphere. 
The main criticism is the unenlightening and unconvincing ending, although it didn't prevent the independent film becoming a huge cult favourite.
7/10