Dragonslayer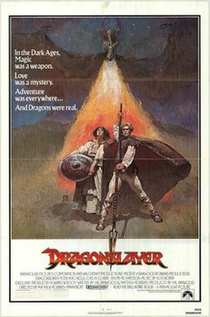 DRAGONSLAYER (PG)
D: Matthew Robbins
Paramount/Disney (Hal Barwood & Howard W. Koch]
US 🇺🇸 1981
109 mins
Fantasy/Adventure
W: Hal Barwood & Matthew Collins
DP: Derek Vanlint
Ed: Tony Lawson
Mus: Alex North
Peter MacNicol (Galen), Caitlin Clarke (Valerian), Ralph Richardson (Ulrich of Cragganmore), John Hallam (Tyrian), Peter Eyre (King Casiodorus)
A co-production between Paramount and Disney, when the latter was trying to appeal to a more mature audience prior to the founding of Touchstone Pictures, Dragonslayer is a fantasy adventure with darker themes and a little more violence you'd come to expect from the family-friendly studio.
Released in 1981, the story is partially inspired by the legend of St. George and follows a young wizard who prepares to do battle against the last remaining dragon and save his kingdom and win the arm of a fair maiden.
In all honesty, the story is the weak link and the performances are nothing to write home about, but the film is commendable for its production values, especially its dragon visual effects which are incredibly impressive considering the film's age.
Game Of Thrones creator George R.R. Martin has named the film one of his biggest inspirations, even using some of the character's names (Tyrian, Valerian) in his own works.
6/10