Dr. Strangelove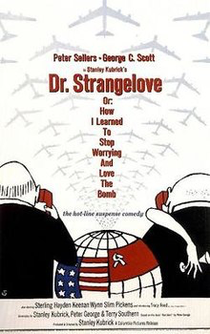 DR. STRANGELOVE: or HOW I LEARNED TO STOP WORRYING AND LOVE THE BOMB (PG)
D: Stanley Kubrick
Columbia (Stanley Kubrick)
W: Stanley Kubrick, Terry Southern & Peter George [based on the novel 'Red Alert' by Peter George]
Peter Sellers (Capt. Lionel Mandrake / President Merkin Mufley / Dr. Strangelove), George C. Scott (General 'Buck' Turgidson), Sterling Hayden (General Jack D. Ripper), Keenan Wynn (Colonel 'Bat' Guano), Slim Pickens (Major T. J. 'King' Kong), Peter Bull (Ambassador de Sadesky), James Earl Jones (Lt. Lothar Zogg)
Stanley Kubrick's black comedy classic is practically a series of sketches featuring a brilliant Peter Sellers performance as multiple characters, including the title character, a demented German-American inventor who has created a doomsday device which is used to wage war with Russia.
Although the movie was released to capitalise on the political issues at the time, it has just as much plangency in the early 21st century.
Iconic characters, situations and humour have dated well, and the film has parodied and referenced numerous times, particularly in TV programmes such as The Simpsons, which took great joy in referencing this film in the earlier seasons.
Certainly one of Stanley Kubrick's best.
9/10