Dr. Jekyll & Mr. Hyde (1931/1941)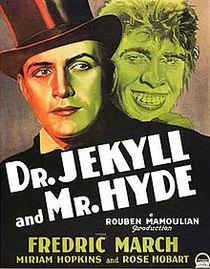 DR. JEKYLL & MR. HYDE (PG)
D: Rouben Mamoulian
Paramount (Rouben Mamoulian)
80 mins (original version: 98 mins)
W: Samuel Hoffenstein & Percy Heath [based on the novel "The Strange Case Of Dr. Jekyll & Mr. Hyde" by Robert Louis Stevenson]
DP: Karl Struss
Fredric March (Dr. Henry Jekyll / Mr. Hyde); Miriam Hopkins (Ivy Pearson); Rose Hobart (Muriel Carew); Holmes Herbert (Dr. Lanyon); Edgar Norton (Poole)
The first horror movie to win an Academy Award, with Fredric March deservedly earning the plaudits for his dual role as both the respectable, eccentric scientist Dr. Jekyll and his grotesque alter ego, Mr. Hyde, the latter of whom becomes overbearing when the chemist drinks a potion which he believes will separate the good and evil behavioural traits in his mind & soul.
Based on Robert Louis Stevenson's classic novel, the horror quotient isn't of any large magnitude, but perhaps this is a sign of the changing times. It's the filmmaking execution in this 1932 film which is years ahead of its time, especially a one-shot transformation scene which is achieved using only makeup and special photographic lenses. 
Released in the same year as Bela Lugosi's Dracula and Boris Karloff's Frankenstein, it's Fredric March whose performance really leaves the lasting memory.
8/10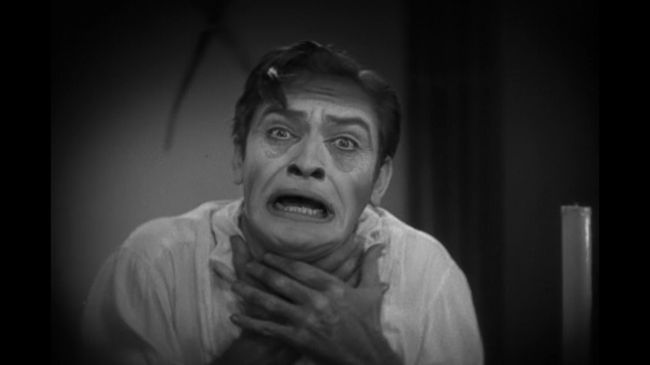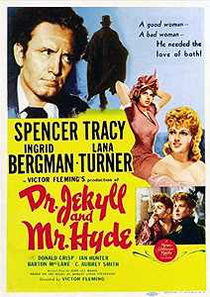 DR. JEKYLL & MR. HYDE (PG)
MGM (Victor Saville & Victor Fleming)
W: John Lee Mahin [based on the novel "The Strange Case Of Dr. Jekyll & Mr. Hyde" by Robert Louis Stevenson]
DP: Joseph Ruttenberg
Spencer Tracy (Dr. Henry Jekyll / Mr. Hyde), Ingrid Bergman (Ivy Pearson), Lana Turner (Bea Emery), Ian Hunter (John Lanyom), Donald Crisp (Sir Charles Emery), Sara Allgood (Mrs. Higgins)
Miscast and misconceived version of Robert Louis Stevenson's classic story, which came about when MGM purchased the distribution rights from Paramount for the 1931 version and then quashed it, allowing this remake to materialise.
Spencer Tracy struggles with the dual role of Dr. Jekyll and his evil alter ego, but perhaps this is due to a lack of makeup. The film does utilise some good cinematography, but the bizarre inclusion of Freudian dream sequences is a complete mystery.
Worth watching for comparison only.
5/10