Downfall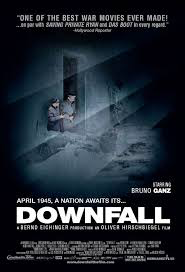 DOWNFALL (DER ÜNTERGANG) (15)
D: Oliver Hirschbiegel
Constantin Films (Bernd Eichinger)
Germany/Austria/Italy 🇩🇪 🇦🇹 🇮🇹 2004 [released 2005] 
W: Bernd Eichinger [based on the books "Inside Hitler's Bunker" by Joachim Fest & "Until The Final Hour" by Traudl Junge & Melissa Müller{
Bruno Ganz (Adolf Hitler), Alexandra Maria Lars (Traudl Junge), Corinna Harfouch (Magda Goebbels), Ulrich Matthews (Joseph Goebbels), Juliane Kohler (Eva Braun)
The final days of Hitler and his Third Reich officials is brought to the screen with meticulous attention to detail from Oliver Hirschbiegel.
Told mostly from the point of view of one of Hitler's young secretaries, the film counts down the final moments of life inside Hitler's bunker as Russian troops advance on Berlin, bringing with them the end of World War II. 
Bruno Ganz is phenomenal as the great dictator, especially in a scene which has become iconic in itself, when Hitler is told by his officers that the war is going to be lost (various versions have popped up on YouTube with alternative subtitles to refer to different subjects).
Corinna Harfouch, as Magda Goebbels, also has a powerful scene where she coldly poisons her own children as defeat begins to move in.
The film was met with some controversy for the way certain real life figures are portrayed, but it's a powerful drama, set in the claustrophobic atmosphere of a room where distasteful egos take up even more space.
Like Das Boot (qv), this is an excellent viewpoint of a heinous war from the losing side.
7/10