Down & Out in Beverly Hills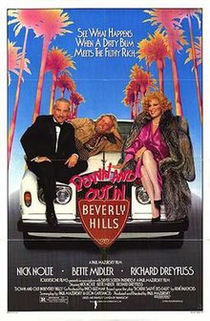 DOWN & OUT IN BEVERLY HILLS (15)
Touchstone (Paul Mazursky)
W: Paul Mazursky & Leon Capetanos [based on the play 'Boudu Sauvé des Eaux' by Rene Fauchois]
Nick Nolte (Jerry Baskin), Richard Dreyfuss (David Whiteman), Bette Midler (Barbara Whiteman), Little Richard (Orvis Goodnight), Elizabeth Pena (Carmen)
A wealthy Beverly Hills family have their lives turned upside down when a wandering vagrant tries to drown himself in their swimming pool.
The movie is a remake of French farce Boudu Sauvé de Eaux (Boudu Saved From Drowning) and features eccentric performances and characters, with Nick Nolte and Richard Dreyfuss in top form.
Enjoyable, amusing and effective, but not particularly memorable, with a lot of unnecessary filler making up the running time. As far as remakes go, however, it certainly isn't terrible.
6/10